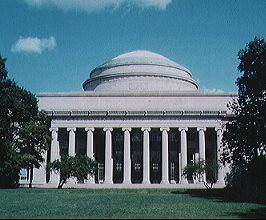 Second M.I.T. Conference
on Computational Fluid and Solid Mechanics
June 17 - 20, 2003
at the
Massachusetts Institute of Technology
Cambridge, MA 02139 U.S.A.
Effective May 30, 2003
-- Sorry --
Due to an unexpected number of registrations already received
The Proceedings are no longer available as part of the Conference fee


The Conference Dinner will be held at the Boston Cambridge Marriott Hotel, close to the M.I.T. campus. Only a few guest tickets are still available, and none may be available during on-site registration.
The new regular Registration Fee not including the Proceedings and not including the Conference Dinner is $ 160.- (no charge for students). Space is available for you at all Lectures at the Conference. Note that the Proceedings Books published by Elsevier can directly be ordered from Elsevier at the Conference (the price is not known yet).
Please register under these conditions to attend the Conference. Registration is no longer available. We are looking forward to welcome you at M.I.T.

Adverts:
Παίξε στοιχημα στις καλύτερες στοιχηματικες εταιριες ή στις καλύτερες εταιριεσ στοιχηματων που υπάρχουν σήμερα. Διάβασε αξιολογήσεις και ότι αλλο θέλεις και μάθε τα πάντα για το στοιχημα.
---
The Second Conference will be held in the same spirit as the First Conference which was held at M.I.T. on June 12 - 15, 2001.

The Proceedings of the First Conference can be obtained through the MIT website. This Conference was held in the same spirit as the First Conference held at M.I.T. on June 12 - 15, 2001. This web site now contains partial details of the Second Conference.
---
Plenary Panel Discussion
Providing Virtual Product Development Capabilities for Industry:
The Human Element

Chaired by: Dr. Steve M. Rohde (Quantum Signal, LLC) - steve [-at-] quantumsignal.com
With the recent trend toward virtual product development involving the use of sophisticated computer-based tools (e.g., CAD, CAM, and CAE), there is an increasing need for more engineers at all levels with not only an understanding of engineering basics, but also an understanding of product development, and the capabilities of the tools used. This panel discussion will address this need. Specifically, topics the panel will address are:
Industry needs for new engineers in a virtual product development environment
Educational and background experience requisites
Courses offered, or planned to be offered by universities
The role of students in transferring the results of recent research to industry
Fitting into curricula the teaching of the use of software
The role of software manufacturers in supporting this process
The function of cooperative programs in industry, academia and government
The role of government labs and technical/professional societies
Panel
The panel chaired by Dr. Rohde will be comprised of
Industry executives involved with product development, computational methods and the hiring and deployment of personnel
Professors with expertise in computational technology
Executives from major software/hardware companies
Representatives from government labs
Representatives from the education arm of major societies
Format
The format will be to have each panel member present for 5-10 minutes, followed by an open question and answer session.