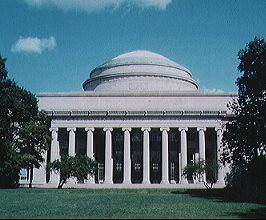 Second M.I.T. Conference
on Computational Fluid and Solid Mechanics
June 17 - 20, 2003
at the
Massachusetts Institute of Technology
Cambridge, MA 02139 U.S.A.
Effective May 30, 2003
-- Sorry --
Due to an unexpected number of registrations already received
The Proceedings are no longer available as part of the Conference fee


The Conference Dinner will be held at the Boston Cambridge Marriott Hotel, close to the M.I.T. campus. Only a few guest tickets are still available, and none may be available during on-site registration.
The new regular Registration Fee not including the Proceedings and not including the Conference Dinner is $ 160.- (no charge for students). Space is available for you at all Lectures at the Conference. Note that the Proceedings Books published by Elsevier can directly be ordered from Elsevier at the Conference (the price is not known yet).
Please register under these conditions to attend the Conference. Registration is no longer available. We are looking forward to welcome you at M.I.T.

Adverts:
Παίξε στοιχημα στις καλύτερες στοιχηματικες εταιριες ή στις καλύτερες εταιριεσ στοιχηματων που υπάρχουν σήμερα. Διάβασε αξιολογήσεις και ότι αλλο θέλεις και μάθε τα πάντα για το στοιχημα.
---
The Second Conference will be held in the same spirit as the First Conference which was held at M.I.T. on June 12 - 15, 2001.

The Proceedings of the First Conference can be obtained through the MIT website. This Conference was held in the same spirit as the First Conference held at M.I.T. on June 12 - 15, 2001. This web site now contains partial details of the Second Conference.
---
Conference Themes
The focus of the Conference will be on computational fluid dynamics, computational solid and structural mechanics, and in particular on the interdisciplinary areas of multi-physics phenomena. Formulations, solution procedures, mathematical analyses and applications are of interest. Some Conference topics are listed below.
Computational Fluid Dynamics
Combustion
Non-Newtonian and Multiphase Flows
Flows at Small/Molecular Scales
Environmental Flows
Radiation and Convection Heat Transfer
Flows with Moving Boundaries
Turbulence Modeling
Free Surface Flows
Biological Fluid Dynamics
Weather Forecasting
High Speed Flows
Internal and External Flows
Computational Solid and Structural Mechanics
Biomechanical Phenomena
Micro- and Nano-mechanics
Bridge Structures
Material Modeling
Chaotic Systems
Nonlinear Dynamics
Composites
Stochastic Structural Analysis
Contact Mechanics
Structural Acoustics
Damage, Fatigue and Fracture
Large Deformations, Structural Stability
Earth Mechanics
Metal Forming
Computational Multi-Physics Dynamics
Multiphase Mechanics, Phase Changes
Piezoelectric Mechanics
Electro-mechanics/magnetics
Solid-Fluid Nano-mechanics
Porous Media Mechanics
Fluid Flows with Structural Interactions
Thermomechanics
Micro-Electro-Mechanical Systems